3.6V – 3.7V Batteries: small but powerful
Under the ENERpower brand we assemble a range of li-ion batteries with protection circuits. Our PCBs (Protection Circuit Boards) are UL certified, as well as the PVC shrink film that we use.
ENERpower's batteries are characterized by their quality and safety. Using our own assembly technology, we weld the button top (the positive terminal) directly to the cell, thereby reducing internal resistance.
See also: Test results of our batteries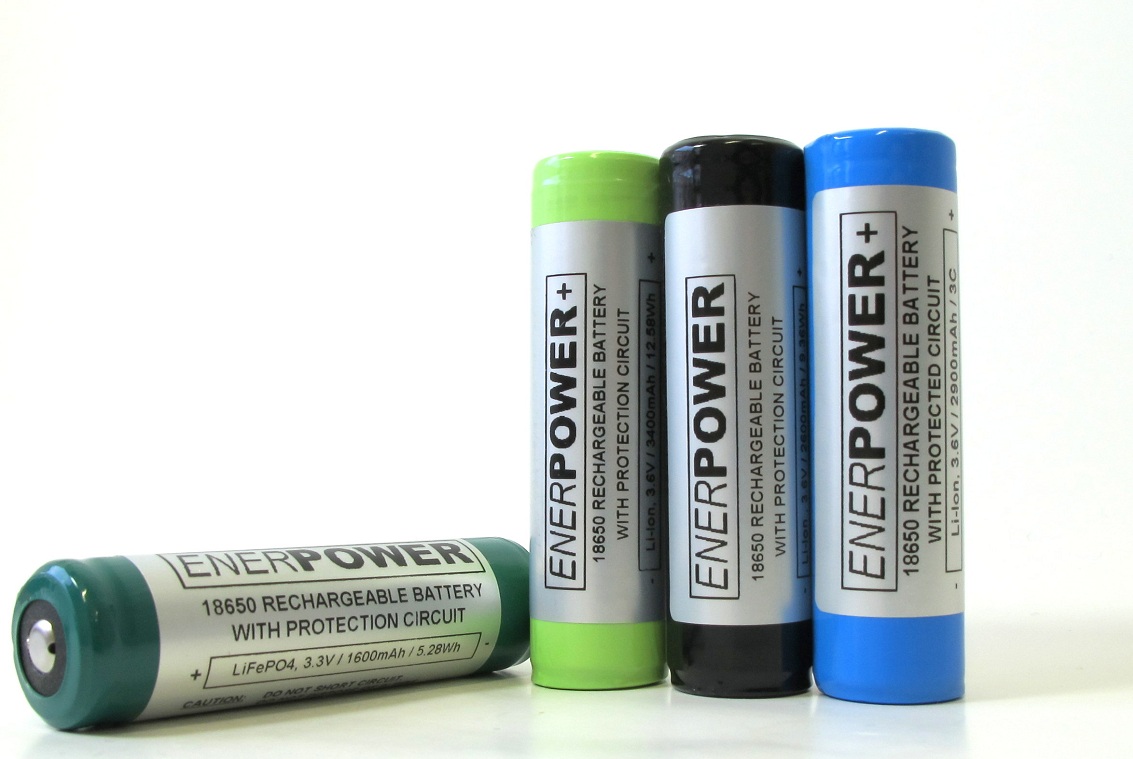 Our Collection of 1S (3.6V-3.7V) Batteries
General Information
High-quality assembly - Made in Germany
UL certified components
Protection circuit (Coin-PCB) against overcharge and deep discharge
PVC Shrink Tubing - endure to 105 degree heat
Low internal resistance
Rechargeable - After 300 charges cycles are still 80% of the nominal capacity
No memory effect - Charge the battery whenever you want
Environmentally friendly according to EU Directive 2002/95 / EC (RoHS)
Technical Specifications
The following table lists the batteries that we assemble on a regular basis. Other Li-ion cells can be assembled following customers' wishes (OEM): 
Model

Battery Cell

Protection

Version

Capacity (mAh)

Internal Resistance
(ohm)

Dimensions in mm (length. diameter)

Weight (Gr.)

Enerpower+ 3500

Sanyo NCR18650GA
3 Mosfets (7A-9A)
Button-Top /
Flat-Top
 3450
 0.09
 69 x 18.8
 49

Enerpower+ 3400

Panasonic NCR18650B

3 Mosfets (7A-9A)

Button-Top /
Flat-Top

3400

0.09

69 x 18.7

48.1

Enerpower 3400

Panasonic NCR18650B

2 Mosfets (5A-7A)

Button-Top /
Flat-Top

3400

0.09

69 x 18.7

48.1

Enerpower+ 3350

Sanyo NCR18650BL

3 Mosfets (7A-9A)

Button-Top /
Flat-Top

3350

0.09

69 x 18.7

48.1

Enerpower+ 3100

Panasonic NCR18650A

3 Mosfets (7A-9A)

Button-Top /
Flat-Top

3100

0.12

69 x 18.6 / 
68 x 18.6

46.3

Enerpower 3100

Panasonic NCR18650B

2 Mosfets (5A-7A)

Button-Top /
Flat-Top

3100

0.12

69 x 18.6 /
68 x 18.6

46.3

Enerpower+ 2900 (3C)

Panasonic NCR18650PD

3 Mosfets (7A-9A)

Button-Top /
Flat-Top

2900

0.08

69 x 18.6 /
68 x 18.6

47.3

Enerpower+ 2900 (3C)

Samsung INR18650-29E

3 Mosfets (7A-9A)

Button-Top /
Flat-Top

2900

0.08

69 x 18.6 / 
68 x 18.6

47.5

Enerpower 2600-SAM

Samsung ICR18650-26F

2 Mosfets (5A-7A)

Button-Top /
Flat-Top

2600

0.12

68.7 x 18.7 /
67.7 x 18.7

46.6

Enerpower 2600-SN

Sanyo UR18650F

2 Mosfets (5A-7A)

Button-Top /
Flat-Top

2600

0.13

68.8 x 18.5 /
67.8 x 18.5

47.7

Enerpower DUAL 2800

Samsung ICR18650-28A

2 Mosfets (5A-7A)

Button-Top /
Flat-Top

2800 (bis 4.35V) /
2600 (bis 4.25V)

0.13

68.7 x 18.7 /
67.7 x 18.7

47.5