2S Batteries (7.2V – 7.4V)




For Bicycle Lights and more
These ENERpower generic Li-ion batteries for branded flashlights such as Lupine©, My Tiny Sun© and Sigma© are equipped with a Molex-1625 plug and assembled in various variations.
The batteries have a nominal voltage of 7.2V – 7.4V (2S) and are assembled with branded battery cells (Samsung SDI, Panasonic [Sanyo], LG Chem).
In each format (2S1P, 2S2P, 2S3P and 2S4P), we offer two variations with different capacities.
We also assemble the batteries with different settings, as follows:
ENERpower Basic: with PVC shrink
ENERpower Plus: with rubber cover & PVC shrink
ENERpower Pro: with LED-Display
The different models are named after a district of Berlin, our beloved home city.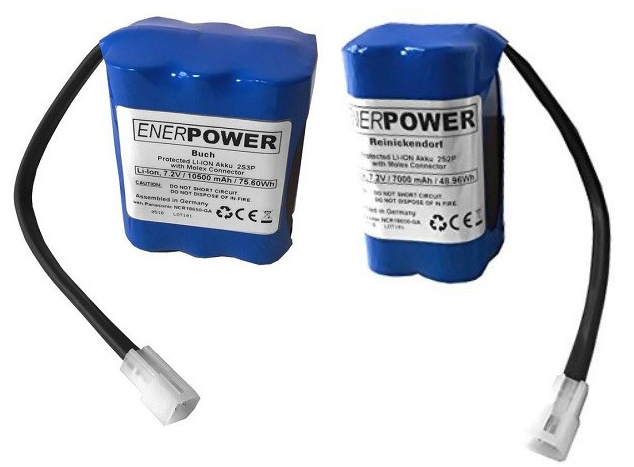 ---
Our Collection of 2S (7.2V-7.4V) Batteries
General Information
Li-ion-Cells: NCR18650GA | Samsung SDI INR18650-35E | NCR20700B
Nominal Voltage: 7.2V - 7.4V
Configurations: 2S1P / 2S2P / 2S3P / 2S4P
Charge Voltage: 8.4V
Continuous Discharge Current: 5A ( 35 Watt)
Rechargeable
Especially developed to fit bicycle lights
Energy storage capability for a longer runtime
Still maintains 80% of the original capacity after 300 charging cycles
IC protection / PCB with protection against short-circuiting, overcharging and power drains
No memory effect - charge the battery whenever you want
Eco-friendly and compliant with EU Directive 2002/95/EC (RoHS)
Quality batteries with a long lifespan and high stability
Technical Specifications
2S1P
Configuration

Model

Battery Cell

Capacity

Energy

2S1PR

GATOW

INR18650-35E

3400 mAh

25Wh

SPANDAU

NCR18650GA

3500 mAh

26Wh

KLADOW

NCR20700B

4200 mAh

31Wh
2S2P
Configuration

Model

Battery Cell

Capacity

Energy

2S2PC

GRÜNAU

INR18650-35E

6800 mAh

48.96Wh

MARZAHN

NCR18650GA

7000 mAh

50.40Wh

HELLERSDORF

NCR20700B

8400 mAh

60.48Wh
2S3P
Configuration

Model

Battery Cell

Capacity

Energy

2S3PC

BRITZ

INR18650-35E 

10200 mAh

73.44Wh

BUCH

NCR18650GA

10500 mAh

75.60Wh

RUDOW 

NCR20700B

12600 mAh

90.72Wh
2S4P
Configuration

Model

Battery Cell

Capacity

Energy

2S4PC

REINICKENDORF

INR18650-35E 

13800 mAh

100Wh

ALTGLIENICKE

NCR18650GA

14000 mAh

102Wh

TEMPELHOF

NCR20700B

16800 mAh

122Wh