3S Batteries (10.8V – 11.1V)
ENERpower offers a range of 3S Li-Ion batteries in the voltage range 10.8V - 11.1V. These batteries are often used with devices that have 12V operating voltage, such as CCTV cameras, LED projectors, radio transmitors and recievers.
We can connect 1-4 Li-Ion cells in parallel to increase the capacity accordingly.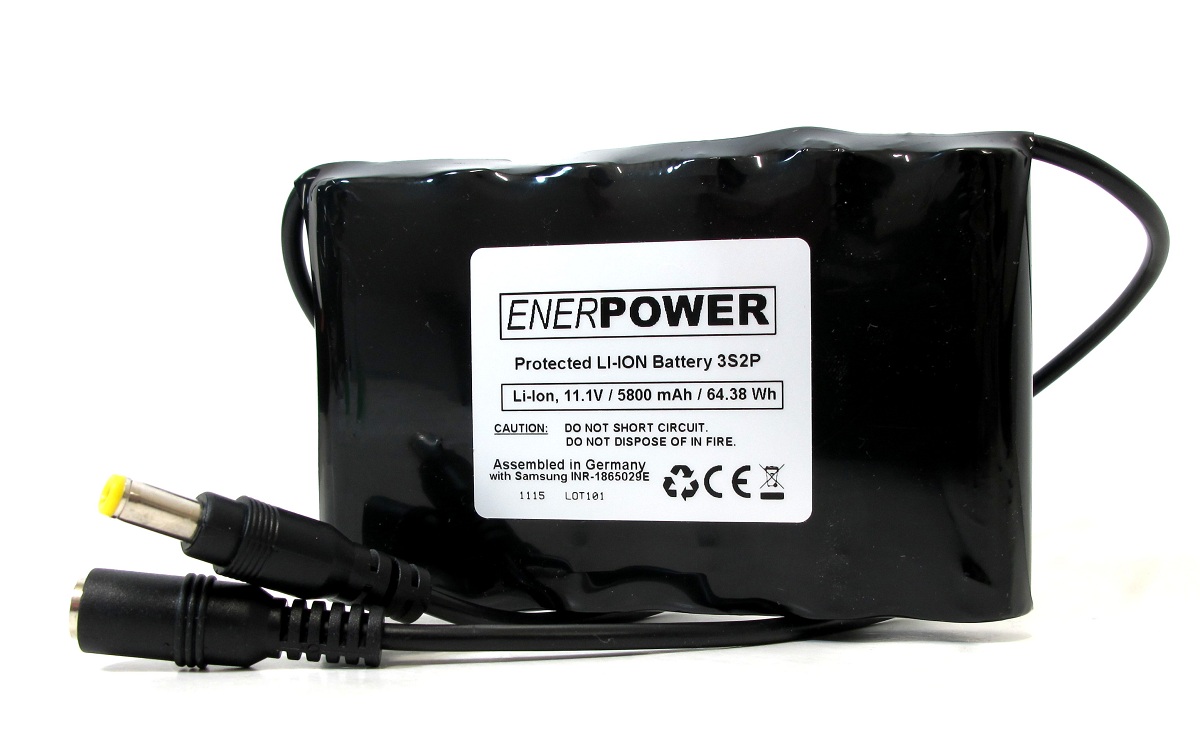 General Information
High quality assembly - Made in germany
Manufactured with high quality and UL certified Li-Ion cells
High-quality UL-certified protection circuits (Coin-PCB) with protection against overcharging and deep discharge
UL certified PVC shrink tubing - can withstand up to 105 degrees of heat
Low internal resistance
Rechargeable – even after 300 charging cycles 80% of the original capacity is still available.
No memory-effect – charge the battery whenever you want
Environment friendly according to EU-Guidelines 2002/95/EG (RoHS)
General Technical Specifications
Input Voltage (charge voltage): 12.6V
Output Voltage: 9V – 12.6V DC
Protection circuit against deep discharge and overcharging
Continuous current consumption: according to customer requirements and technical feasibility
Passive balancer integrated
Output cable: modifiable, usually DC 5.5 / 2.1 mm (charge and discharge cable)
Possible configuration: 3S1P, 3S2P, 3S3P, 3S4P
Capacities
Configuration

Li-Ion Cell (e.g.)

Capacity / Power (Wh)

Technical
Specifications

3S1P

Panasonic NCR18650B

3350 mAh / 36.18

Sanyo NCR18650BL

3350 mAh / 36.18

Samsung ICR18650-26F

2600 mAh / 28.08

3S2P

Panasonic NCR18650B

6700 mAh / 72.36

Sanyo NCR18650BL

6700 mAh / 72.36

Samsung ICR18650-26F

5200 mAh / 56.16

3S3P

Panasonic NCR18650B

10050 mAh / 108.54

Sanyo NCR18650BL

10050 mAh / 108.54

Samsung ICR18650-26F

7800 mAh / 84.24

3S4P

Panasonic NCR18650B

14400 mAh / 144.72

Sanyo NCR18650BL

14400 mAh / 144.72

Samsung ICR18650-26F

10400 mAh / 112.32