ENERpower EP-18650DC2 Charger
The Enerpower EP-18650DC2 is a microprocessor-controlled charger with 2 independent charging slots. This charger is fully automatic and charges different types of Li-ion batteries with a charging current of up to 1A.
General Information
Individual monitoring of 1 or 2 Li-ion batteries in the following formats: 14500/14650/16500/16650/17500/17670/18500/18650. Various formats with different capacities can be charged simultaneously.
CC/CV charger with an intelligent pre-charge conditioning process for batteries below 2.5V. This allows you to improve and extend the lifespan of your batteries.
Output power: up to 1A per charging slot
Easy and safe to use - includes LED indicators
Includes a 12V car adapter for charging your batteries on the go
Dimensions: 103 x 60 x 32 mm (LxWxH)
Weight: approx. 75g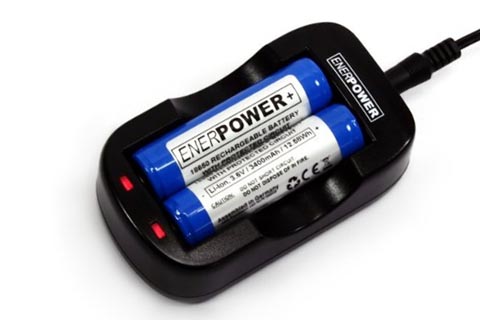 Charging Process
(Click on the picture to view the complete diagram)
T0-T1 pre-charge phase: when the voltage of the battery is lower than 3.0V, the battery is loaded in increments of  0.1A. As the battery reaches a 3.0V voltage, the T1 charging process begins.

T1-T2 quick charge phase: when the voltage of the battery is higher than 3.0V, the device charges using a constant current (CC).

T2-T3 constant voltage (CV) phase:  the charging current slowly drops while the voltage simultaneously increases. As the charging current reaches 40-60 mA, the charging process stops. The LED indicator changes from red to green.

T3-T4-T5: if the battery is not removed from the charger after the end of the charging process, the charging process starts over once the voltage of the batteries drops below 3.95V.